Split by Picking Area#
General#
With the app "Split by Picking Area" from KUMAVISION 365, different picking areas within a storage location can be defined individually on storage bin level. If a picking is triggered, the app creates the picking lists according to these areas. One picking list is created per picking area. The prerequisite for using the app is two-stage goods issue logistics, which consists of goods issue and picking, as well as working without a "controlled warehouse".
Picking by areas" offers you the following advantages:
Optimize your picking processes
Easy and fast definition of picking areas
* Clarity by combining several picking lists in one delivery bill
Practical examples:
Example of small and bulky parts:
In one storage location, small parts are picked by hand and bulky parts are picked by forklift. You now receive a separate picking list for both the small parts and the bulky parts. However, your customer only receives one delivery bill.
Example of multiple warehouses:
Your main storage location consists of several halls. With the Split by Picking Area app, you get one pick list per hall - instead of one entire pick list as before.
Introduction Split by Picking Area#
Split by Picking Area | KUMAVISION App from KUMAVISION on Vimeo.
Link to Microsoft App Source "KUMAVISION Split by Picking Area"
Establishment#
After successful installation of the app, some settings have to be made. These are explained in more detail below.
Storage location#
In the storage location for which you want to define the picking areas, the following switches must be activated: * "Picking by Picking Areas, * "Goods issue required" and * "Commissioning required"
Note
The "Picking by picking area" field is automatically added to the storage location map when the app is installed.
All other fields are present by default.
Create picking areas#
To define the picking area for your storage location, first call up the "Picking area list" via the user search.
Via "New" in the ribbon you can define a new picking area using the table below:
| Field | Description |
| --- | --- |
| Location code | Select the storage location code for which you want to define the picking area. |
| Code | Assign a meaningful abbreviation for the picking area e.g. "High". |
| Description | Enter a description for the picking area. E.g. "High rack |
Assignment of storage bins - picking area#
To assign the storage bins from a storage location to the picking areas, call up the storage bins in the desired storage location via the Ribbon > Associated > Storage location > Storage bins.
The storage bin map opens. For each storage bin you can now assign the picking area code.
Process#
After you have made all the necessary setups, you will receive a separate pick list for each picking area within the goods issue process.
Application examples#
Example 1 "Small and large items"#
Your items are stored in a warehouse location where your warehouse staff picks items manually from the floor and picks items from the high rack using a forklift. Therefore, you create two picking areas. When you receive an order with mixed items from high rack and floor, you receive two picking tickets. This way your warehouse workers can do all manual picking first and then all picking from high rack.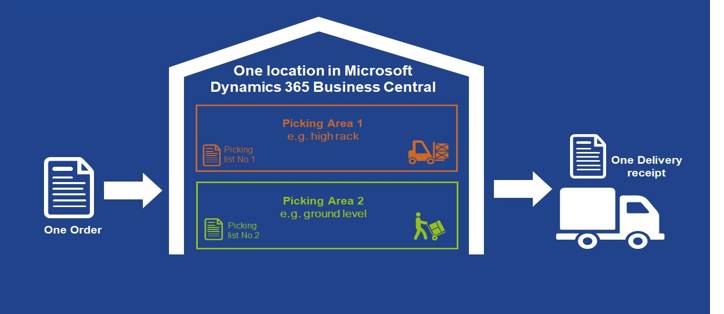 )
Example 2 "Various warehouses"#
Your main warehouse consists of different warehouses. The app suggests a separate pick list for each warehouse - instead of one pick list for all warehouses.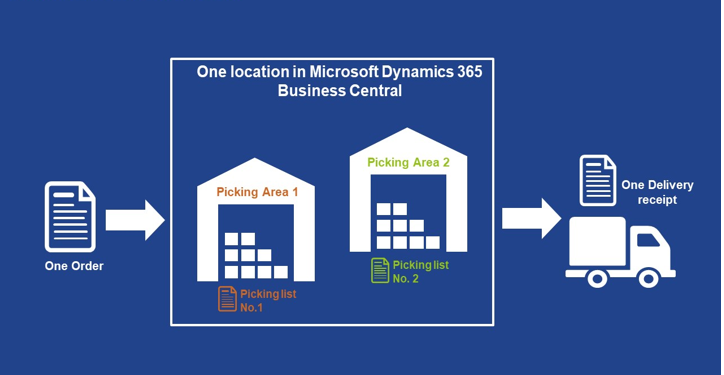 )
What happens after the free trial#
What happens after the free trial? from KUMAVISION on Vimeo.